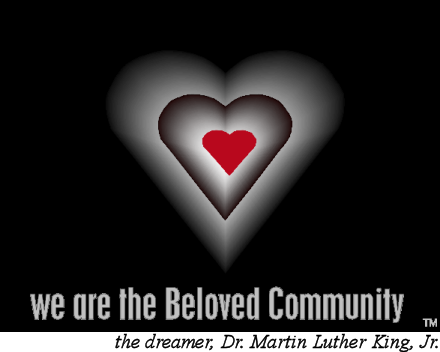 Our goal is to create a beloved community and
this will require a qualitative change in our souls
as well as a quantitative change in our lives.
~ Dr. Martin Luther King Jr.
'we are the Beloved Community' began in 2006 with organizations who had traditionally honored Dr. King on and around April 4th each year. This original group came together in an effort to not just work as individual groups and organization, but with the ideal of working together to support each other and to bring their events and opportunities to an even wider audience. The first joint events and activities were held during the week of March 29 - April 4, 2007. If you wish, you can see our past events and activities through the links below.
2007
the original (2007) partners and planning committee
the papers submitted for the 2007 Academic Symposium answering the question "Did the Beloved Community Die? Renewing the Dream."
2008
the 2008 partners and planning committee
2009
the 2009 partners and planning committee
2010
the 2010 partners and planning committee
2012
2013
2014
2015
Home | Events | Partners | You Can ... | Our Stories | Quotes
The URL for this page is http://www.wearethebelovedcommunity.org/history.html